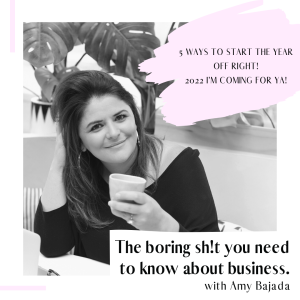 Wednesday Feb 09, 2022
EPISODE 66 : 5 Ways to start the year off right ... 2022 I'm coming for ya!
"Fall down seven times, stand up eight." The Japanese proverb, meaning choosing to never give up hope, and to always strive for more. Focusing not on the reality in front of you, but on that which may not be reality yet. 2022, I'm starting you right, and I'm excited for what's to come ... 
After a tough 2021 ... I took some time and reflected on what was needed to come back in 2022 stronger and better than ever before.  And during that reflection I realised that there were 5 strategies I needed to implement to start this year off right. 
So in my first episode back for 2022 ... and as I put 2021 in that box marked "toughest year in business" ... I'm sharing the 5 ways I'm going to start this year right.
Whilst I'm sure this list isn't definitive by any means, I know I can't go wrong if I at least start here ...
Strategy #1 : Set a realistic plan (3:37)
Strategy #2 : Learn from the past (5:50)
Strategy #3 : Note down new skills you need (7:23)
Strategy #4 : Take time for ourselves (9:21)
Strategy #5 : Make learning a priority (10:52)
So join me as we discuss these strategies further. A x
To book a discovery call for 1:1 coaching : https://amybajada.kartra.com/page/freediscoverycall
Join my FREE 30 Day Cashflow Challenge and start the year right 30 DAY CASHFLOW CHALLENGE
Some resources mentioned throughout the podcast : 
TRELLO : https://trello.com/en
ASANA : https://asana.com/
Comments
(0)
To leave or reply to comments, please download free Podbean or