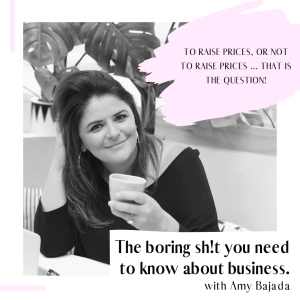 Wednesday Feb 16, 2022
EPISODE 67 : To raise prices or not to raise prices, that is the question!
If you've ever found yourself continually dipping into your personal bank account to fund anything for your business, I can bet that it's because you haven't got your pricing right!  If you are constantly delaying creditor payments, or dread the "money shuffle" as I call it. You know the process I'm talking about, where you move money around so much trying to juggle due dates, that you make your own head spin.  
Again, I hate to tell you my friend, but you're pricing is off.
It has to be!! 
In this episode, I unpack why it's obvious your pricing is off PLUS:
Under what circumstances you may need to raise the pricing on your goods or services,
How you need to push through the uncomfortableness of the process of raising your prices,
Why raising prices is critical to the survival of your business,
What components you need to consider when developing your pricing strategy,
What communication channels may be appropriate to effectively use during this process,
How consistent, transparent messaging is important throughout the communication process.
After listening to this episode, you will definitely be able to identify whether you are ready to raise prices in your business and how you can tackle this transition.
To make it easier for you to locate the relevant sections of this episode;
[3:09] Why your pricing is important
[3:20] Why your pricing may be incorrect
[4:09] What components you should consider when pricing your products or services
[5:57] Some of the best ways to communicate your price change
[8:47] The importance of consistent messaging
[11:44] Some additional advice from yours truly ...
As pricing is undoubtably linked to the cashflows in our business, if you haven't already, be sure to take my 30 DAY CASHFLOW CHALLENGE ... 30 days, 30 key cashflow strategies to help you improve the overall flow of cash in AND out of your business!
"I literally did your 30 day cashflow challenge in like 3 days over Christmas, I literally just sat on the lounge room floor and did it. And found about $2,500 worth of spend each year that I just didn't need anymore, which I ditched. I'm going to do it again with my personal expenditure!"
Also, if you haven't done so already, follow the podcast.  I'm have so much exciting stuff to come this year, plus an impressive list of guests coming along to share the conversation with, and if you're not following, there is a good chance you may miss out!  FOLLOW HERE!
A x
Comments
(0)
To leave or reply to comments, please download free Podbean or