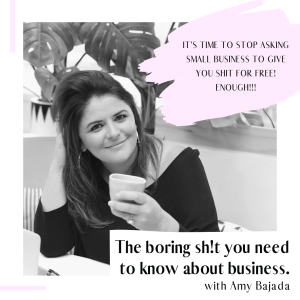 Thursday Mar 17, 2022
EPISODE 71 : It's time to stop asking small business to give you shit for free! ENOUGH!
Whilst I have the pleasure of working with business owners on their financial strategies, the downside to this type of work is understanding the financial pressures and pains that business owners go through.  Downside only from the point of view that I really wish they didn't have to go through such pain to get to a better place.
So it pains me to no end, when I see on various forums like Facebook groups, business owners asking for something either for little fee or worst still ... for free!  Really?
I call time on this!  It's time to start to value small business more.  
In a recent scroll through Facebook groups as a way to keep my engagement up, I found myself getting more and more frustrated by the recurring theme of questions being asked ... One in particular sent me over the edge and prompted the discussion on this episode today ... it went something along the lines of "I'm about to reignite my coaching business and I need a website, but I have a very little, to no budget and was hoping someone could help me out" ... non threatening enough I hear you say, but when you dissect what this person is asking, is it really in the spirit of supporting small business, or just looking for something for nothing because it is posted in a way that disguises these questions as friendly support for other businesses ... lets chat about this.
If this is a recurring theme for you and you would like to work on this to improve your financial foundations for your business, let's book a free, no obligation discovery call where we can talk about strategies to get you to your desired outcome for your business.  Simply book your call here >>> FREE DISCOVERY CALL
Perhaps you're interested in my Small Business Cashflow Course and would like to join the waitlist >>> JOIN WAITLIST HERE
Other free resources that could provide assistance with your financial strategies ... 
30 Cashflow Challenge >> https://amybajada.kartra.com/page/Cashflowchallenge
Elements of an effective Pricing Strategy PDF >> https://amybajada.kartra.com/page/freepricingdownload
Comments (0)
To leave or reply to comments, please download free Podbean or